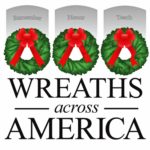 Every year before Christmas we place thousands of holiday wreaths on service members graves in every National cemetery across the country. This year the ceremony will be on Saturday, December 17th. The Riverside National Cemetery ceremony will begin at 9am.
The public is welcome to attend, we are happy to have your participation. Please dress appropriately this is a formal event, wear slacks and button up shirt or dress of appropriate length. (No tee-shirts, shorts, flip flops etc…) Military and retired military are encouraged to wear the appropriate uniform.
Please help add to our number of wreaths too. Please share this with as many people as possible. Wreaths must be purchased by Dec 2nd to be at this years ceremony.
Don't forget to sponsor as may wreaths as your budget allows. CLICK HERE to sponsor wreaths.
These special wreaths are provided by individuals such as you as well as corporate donations. The wreaths are $15.00 each and will be delivered and placed all at the same time across the country at the National cemetery of your choice.
We are of course coordinating the ceremony at Riverside National Cemetery again this year. You are welcome to attend this special ceremony along with us and help place some wreaths. My first priority is of course to get as many wreaths donated as possible. Please help by purchasing a wreath or two or four……
We still need a lot of help with our wreath numbers for Riverside National Cemetery this year. Please, if there is any way you can help purchase some wreaths, click the link below. The wreath sales are available all year long, but we only have a few days left to order for this years delivery. I would love to see everyone at the ceremony too if you can make it.. I encourage you to share this email with friends and co-workers. Every little bit helps.
Thanks so much for your help in this, and let me know if you are interested in attending the ceremony on Saturday December 12th. This really means a lot to many people.
For more information please go to this link – https://sq45.org/WAAa
Here is a map to the Ceremony location >> MAP
Here is a video about Wreaths Across America >> VIDEO
Thanks again for your help.
Ken Benner, Maj.
Riverside National Cemetery
Wreaths Across America
Volunteer Location Coordinator
Activities Officer
March Field Composite Squadron 45
Civil Air Patrol PCR-CA-007
http://sq45.cawgcap.org
khbenner@gmail.com
(951) 634-5023