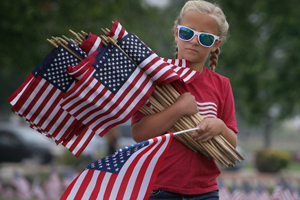 Saturday May 27, 2017 over 1,000 community volunteers will place nearly 200,000 flags to honor all those interred at Riverside National Cemetery. All flags will be provided at the cemetery and will be available at various points throughout the cemetery. I am asking for everyone's cooperation in accepting flags at the distribution points. Please only take the bundles of flags handed out so everyone in attendance will be able to get flags and participate. I am asking for your understanding and assistance in this matter to ensure everyone has a memorable experience.
Proper flag placement always seems to create confusion so I would like to clarify this ahead of time. According to cemetery staff, the flags should be placed centered on the grave marker and at the bottom. The purpose for this is so the flag will be placed on the actually burial plot. If placed at the top of the marker, the flag is technically not on the plot. Another item for clarification is the pre-drilled hole in the cement border around the marker. The flags should NOT be placed in these pre-drilled holes. Although they will fit, if placed in the cement hole, the wood stick will expand after getting wet and be difficult to get out.
TIP: If you bring a screwdriver with you, it helps make a whole in the grass to place the flag.
Lastly, there will not be any Warrior Chips available this year. The increased amount of volunteers participating in this event, and cost associated with purchasing the chips, has made it difficult to continue this tradition.
Thank you for your continued support and please feel free to contact me if you have any additional questions.
Brennan
brennan@dslextreme.com
(714) 325-8301