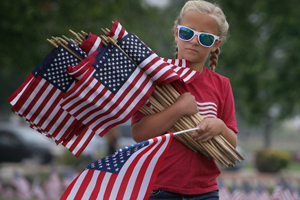 A Flag For Every Hero

Every year on Memorial Day our nation comes together to honor our fallen soldiers and Veterans Day is the day we honor our Veterans. The annual "Flag for Every Hero" is a collaborative community and business effort to honor more than 200,000 heroes with flags at the Riverside National Cemetery.
The event is hosted by the "Honoring Our Fallen" foundation which is dedicated to serving the nations fallen and the families these heroes have left behind by providing support services. The organization offers support for families of the fallen during the Transfer of Dignified Remains, while also providing counseling, financial assistance, housing assistance and much more.
Riverside National Cemetery spans across 921 acres, making it the third largest cemetery in the nation. It is unable to finance the program alone. So, the community comes together, with the guidance of the "Honoring Our Fallen" foundation, to shoulder the expense which gives every fallen hero a flag by their graveside.
The "Flag for Every Hero" program was created in 2012 but has since been transformed into what is the "Flag for Every Hero" program by Coordinator Brennan Leininger. Leininger wants to ensure that every fallen hero is honored with a flag on Memorial and Veterans Day.
The event has given opportunities to youth groups and volunteer services as well as given the community a chance to come together to remember all of the service men and women who defended this great Nation.
Every Flag that is purchased through this project is obtained through donations and fundraising efforts. Donations provide an 8"X 12"American flag at a cost of 60 cents each. A small donation of $100 will purchase more than 200 flags to be placed on Memorial Day or Veterans Day.
To make a donation, contact the Honoring Our Fallen Foundation. Your donation is a gift that holds a significant impact on helping to honor the men and women who have sacrificed for this Country.
http://www.honoringourfallen.org/
Thank you for your continued support and please feel free to contact me if you have any additional questions.
Brennan
brennan@dslextreme.com
(714) 325-8301