Riverside National Cemetery is home to the Medal of Honor Memorial, which is recognized by the U.S Congress as a National Medal of Honor Memorial Site.
In 1998 Riverside, California was planning the Congressional Medal of Honor Society's 99th convention. While organizing the event, a small group came together with the mutual goal to correct that in no place, at that time, in the United States of America was a memorial that honored Medal of Honor recipients with the recognition that they deserved. A memorial committee was formed to raise the funds needed to erect a monument and create a design for the Medal of Honor Memorial.
After gaining the funding, the memorial committee granted the task of designing the Medal of Honor Memorial to Principal Designer Jeff Crumbaker, of The Patrician Group of Riverside and Tim Maloney, of the Community Works Design Group located in Riverside.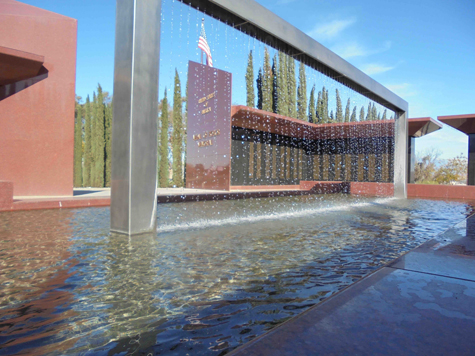 The final product was a circular landscape with a set of red granite walls serving as the entryway and portraying a door leading to a cascading water fountain and pool. On the outside is groomed gravel walkways interspersed with rock planters or Italian cypresses, planted in groups of nine which represent the smallest type of military patrol unit.
"I wanted to distinguish the entryway, it is intended to emphasize the individual aspect of the Medal of Honor Memorial," said Crumbaker. "We are celebrating men and women, and their individual accomplishments."
Past the grand entryway is a circular memorial laid out in black granite walls with 3,487 names etched in them of the men and women that have proudly served this Country, and earned the prestigious Medal of Honor. The names of the Medal of Honor recipients are listed beneath the war they served in, starting with the Civil War continuing through to Afghanistan.
The Medal of Honor Memorial was dedicated at a ceremony and was attended by 85 Medal of Honor recipients on November 5, 1999.