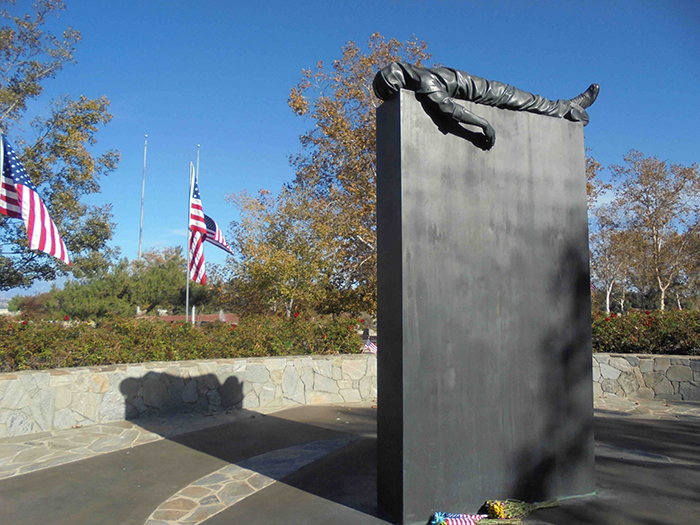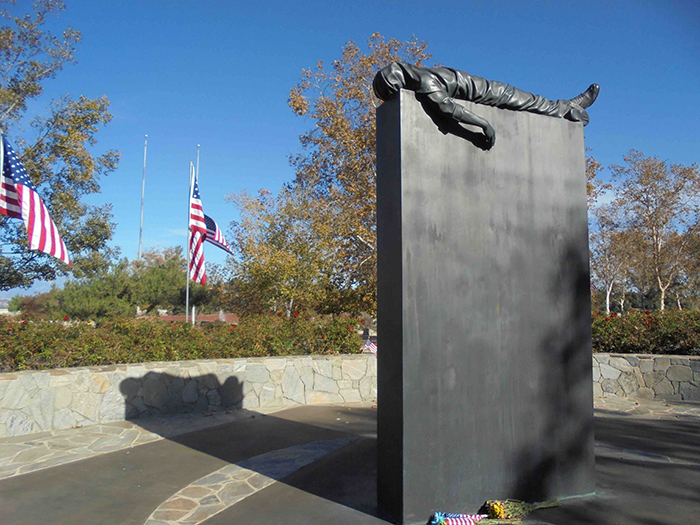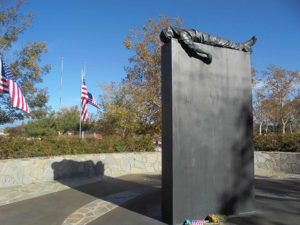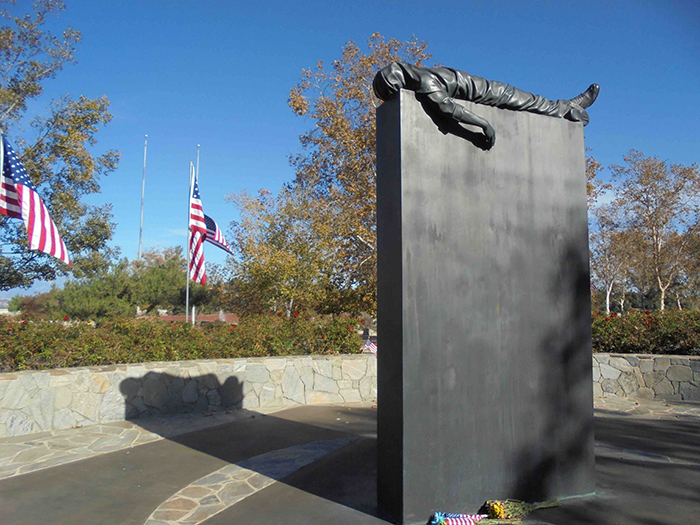 Countless American men and women gave the ultimate sacrifice while serving this nation in the United State Military. Their sacrifice will forever hold the gratitude of our great nation. A gratitude of which has been exemplified by the Riverside National Cemetery's Veterans Memorial.  The Veterans Memorial statue is the focal point that greets those who visit the historical Riverside National Cemetery.
The Veteran's Memorial was sculpted by Thomas Schomberg, designer and sculptor of the famous Rocky statue in Philadelphia, PA. Schomberg was commissioned to create the piece by Thomas F. Kane, a Vietnam veteran, who felt more monuments should be erected from those who had lost their lives in battle, especially those who lost their lives during the Vietnam War.
The Statue, an unknown lifeless body of a soldier in which the boots and hands are the only things visibly distinguishable, sits atop a 12-foot pedestal. As the face of the soldier and most of the body is hidden with a large cloak.  The unknown soldier represents any man or woman, any rank or division and stands as a silent memorial of every American who has given their lives in combat.
After the statue was completed by Schomberg, Kane and his wife Judy Kane graciously donated the breath-taking statue to Riverside National Cemetery and was dedicated in May 2000.  In 2000 the Veterans Memorial Statue was valued at $345,000, but it stands as a priceless reminder of those who gave the ultimate sacrifice is priceless.
The Riverside National Cemetery Support Committee combined their efforts and funding to have a plaza built around the memorial.  The RNCSC raised 250 thousand dollars in order to create the beautiful plaza that surrounds the Veterans Memorial. Though the Riverside National Support Committee finds this to be a small price, for something so invaluable as the Veterans Memorial, a representation of the price of freedom and those we owe it too.