Event Schedule

The Memorial Day program starts at 11:00am and lasts about an hour and fifteen minutes. If coming from the west (91fwy to Van Buren Blvd..) cars need to get past the intersection of Van Buren and Trautwein Rd. to get to the cemetery. At 9:30 am the intersection will be blocked for an hour to allow the West Coast Thunder motorcycles to parade thru. Also, Meridian St will be closed to cars at 9:40 am. The only way into the cemetery for cars from 9:30 to 10:30 is from the 215fwy off ramps onto westbound Van Buren Blvd then make a left turn into the cemetery main entrance at Van Buren Blvd and Meridian St. There will be RPD traffic control at that intersection. After 10:30 am, hopefully all the motorcycles will have paraded past the cemetery and cars will be able to enter as the roads will be reopened. However, there will have been a very large back up so expect a traffic jam with everyone trying to enter the cemetery at the same time. The best thing would be to plan on arriving at the cemetery before 9:30 am.
Guest Speaker
MGYSGT Juan (John) Valdez
Enlisted: 19 May 1955 – Retired 1 July 1985
Fall of Saigon Marines Association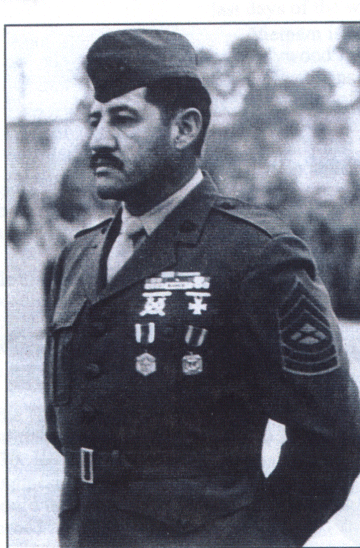 Master Gunnery Sergeant Valdez was born August 1937 in San Antonio, Texas. His introduction to military training started in high school when he enrolled in the Reserve Officer Training Corps (ROTC) Program. This elective course introduced students to a recruit training environment and required their military uniforms be worn a minimum of three times a week. The course provided instruction on military essential such as Code of Conduct, The Law of War, Military Security, Close Order Drills, Weapon Nomenclature, Marksmanship, Physical Fitness and Tactical Measure including Map Navigation to name a few.
MGYSGT Valdez became a member of the Drill and Rifle Team which required them to complete with other ROTC teams statewide including parade events.
In his senior year of high school, MGYSGT Valdez enlisted in the United States Marine Corps Reserve. This required monthly training meetings and Active Duty Training one week a year at a major Marine Corps Base. With this vast training, he was a seasoned Marine by the time he enlisted on Active Duty in May 1955.
MGYSGT Valdez attended 12 weeks of Boot Camp Recruit Training at the Marine Corps Recruit Depot in San Diego, California and was assigned to the 1st Battalion, Platoon 134. He graduated in August 1955 and received orders to report to Camp Pendleton Marine Corps Base and was assigned to the 1st Battalion, 2nd Infantry Training Regiment (ITR) for four weeks of Basic Infantry Training. Upon completion of Warfighting Tactics, MGYSGT Valdez received his orders to report to Kanohe Marine Air Station, Oahu, Hawaii. While in Company A, 1st Amphibian Tractor Battalion, 1st Marine Brigade, FMF, he completed Military Occupational Specialty (MOS) Training as an Assault Vehicle Crewman and received a Primary Assault Amphibian Vehicle MOS of 1833.
During his 30 year military career, MGYSGT Valdez served with Amphibian "AMTRAC" units with the : 1st, 2nd and 3rd Marine Division at Camp Pendleton, CA; Camp Lejuene, NC; Kanohe Marine Air Station, Hawaii; Camp Schwab, Okinawa, Japan; and the Republic of South Vietnam (During the Vietnam War)
MGYSGT Valdez served in a variety of billets within his primary MOS of 1833, including Crew Chief, Section Leader, Platoon Sergeant, CompanyGunnery, Instruction, Operation/Training Chief and Technical Advisor.
Other assignments:
During July 1960 to November 1962, while serving a tour in Hawaii, MGYSGT Valdez was transferred from KMAS to the Hawaiian Armed Services Police (HASP) in Honolulu and was assigned duties as Military Policeman, Traffic Accident Investigator and Motorcycle Patrolman.
November 1969 to October 1970, MGYSGT Valdez served as Assistant Club Manager of the 21-Area Staff Noncommissioned Officer Club at MCB, Camp Pendleton, CA.
August 1977 to April 1979, while on active duty, MGYSGT Valdez applied for and was accepted, and completed the Oceanside Reverse Police Academy and served the community as a Reserve Police Office with the Oceanside Police Department.
MGYSGT Valdez is a graduate of the Marine Security Guard (MSG) School located in Arlington, Virginia. He served three separate successful tours with the Department of State (DOS) and served as Detachment Commander of MSG Detachments as U.S. Embassies in Budapest, Hungary; Saigon, Republic of South Vietnam; Vienna, Austria; and Brussels, Belgium. Completion of this duty made him eligible for a secondary MOS of 8151.
MGYSGT Valdez was officially the Last Marine to set foot on the last helicopter that airlifted the last 11 Marines off the U.S. Embassy roof as the advancing North Vietnamese Army (NVA) drove their Russian tanks towards the Presidential Palace on April 30, 1975 during the final evacuation of "The Fall of Saigon."
MGYSGT Valdez is the President of "The Fall of Saigon Association", a California Corporation registered though the State of California. The Association is composed of 84 Marines who severed and defended the American Embassy in Saigon and four consulates in Da Nang, Nha Trang, Can Tho and Bein Hoa, during the evacuation of the Republic of South Vietnam in April 1975. The purpose of the association is to further the memories of LCPL Darwin L. Judge and CPL Charles McManon Jr., both killed on April 29, 1975 during the evacuation. Though donations from members and the public scholarships are presented yearly (in April and May) at the High Schools they attended. Please visit our website at: WWW.FALLOFSAIGON.ORG for more information.
Personal decorations include: Navy Achievement Medal w/Star, Navy Commendation Medal, Meritorious Service Medal, Humanitarian Service Medal, Marine Corps Expedition Medal, Armed Forces Expedition Medal, Good Conduct Medal w/8 stars, Combat Action Ribbon w/star, National Defense Medal w/star, Vietnamese Cross of Gallantry w/star, and Vietnam Campaign Medal.
After retiring from the Marine Corps in July 1985, MGYSGT Valdez attended college and begin a Federal Service Career in April 1991 at Marine Corps Base, Camp Pendleton and Held the position of Assistant Housing Manager with Family Base Housing until his retirement from the Federal Government in September 2003.
MGYSGT Valdez resides in Oceanside, Ca and attended both Palomar and MiraCosta Community Colleges. He holds Associate of Arts Degrees in: Criminal Justice, Supervision and Management, and Hospitality (Hotel) Management.