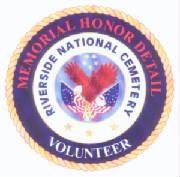 MEMORIAL HONOR DETAIL (MHD)
The Riverside National Cemetery Memorial Honor Detail was established in 1996, and became a non-profit California Corporation in 1999.  It received its Federal ID non-profit organization Identification Number in 2000.  For informational purposes, that number is: 33-0877072 and can be used for tax purposes when making a donation to the Memorial Honor Detail.
 MISSION STATEMENT
Our mission statement, as stated in our by-laws is:  The purpose of the corporation is to render Military Honors for veterans who are interred in the Riverside National Cemetery.  All services will be rendered free of charge.  Services will be rendered using volunteers.
The Memorial Honor Detail began operation in 1996 due to the downsizing of the United States military.  The Department of Defense could no longer support burials with active duty military personnel.  Various veterans' service organizations in the area determined that this was not acceptable, and requested the Riverside National Cemetery Director to allow these organizations to form teams that would be available to perform Military Honors for veterans being buried at Riverside National Cemetery.  The cemetery Director graciously assigned cemetery personnel to train these teams in the proper protocol for performing Military Honors.
Originally, three teams were qualified to perform honors, and during the next few years, expanded to 26.  The current teams consist of teams from various American Legion, Veterans of Foreign Wars, Disabled American Veterans, Junior Reserve Officers Training Corp., Sea Cadets, California Military Academy cadets, and teams formed from veterans of the various military services, e.g. Army, Marine Corp, Air Force, and All Forces.  All teams have been qualified to perform Military Honors and are evaluated periodically to ensure that their performance meet the standards of the Memorial Honor Detail. The teams wear either their service uniforms or uniforms approved by their respective veterans' service organization.
There is at least one team on duty every working day of the year, and in many cases, two teams are available.  Full Military Honors consist of the firing of three volleys from rifles, the sounding of taps, and the folding and presentation of the U. S. flag to the person designated by the family of the veteran.  Since the first service was performed by the Memorial Honor Detail in 1996 to the present, the teams have performed or assisted the active military in over 44,700 services at Riverside National Cemetery.  This represents in excess of 480,700 volunteer hours donated by members of the Memorial Honor Detail.
Additional information about the Riverside National Cemetery Memorial Honor Detail can be found on our website www.mhdriverside.com   Donations are always welcome, since that is the corporation's only source of income.  If a donation is made by credit card on this website, indicate that it is for the Memorial Honor Detail, and the Riverside National Cemetery Support Committee will ensure that it is forwarded to the Memorial Honor Detail.
Contacts
Chairman:
Dan Smith                              951-961-4012
Board Secretary
Bill Baker                               951-642-7717
Duty Dispatcher                    951-377-4988
How to Volunteer                  951-377-4988
RIVERSIDE NATIONAL CEMETERY
Request Military Honors      951-377-4988
for a Private Cemetery
Special Requests
Dan Smith                             951-961-4012
Veterans Day Ceremony
Dan Smith                            951-961-4012
Make a Donation to support our Veterans
Make checks payable to Memorial Honor Detail and mail to address:
Memorial Honor Detail, Riverside National Cemetery
22495 Van Buren Blvd.  Riverside, California 92518
Active Duty Service Branches
To be used by Funeral Directors or family's scheduling services on their own and not using a Funeral Director
Contacts
U.S. Army                                951-300-3216
U.S. Marine Corps                 866-826-3628
U.S. Navy                                951-655-7721
Cell   909-838-1825
U.S. Air Force                        951-655-5179
U.S. Coast Guard                  310-521-3770
Cell   909-838-1825