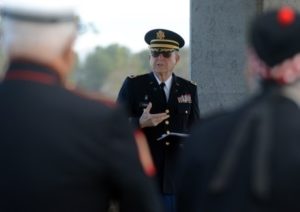 In 1994, the Unclaimed Veteran Ceremony was created after a small group of volunteers from the Riverside National Cemetery Support Committee (RNCSC) discovered that veterans who were unclaimed were unfortunately not given their earned honors at their burial.
In response, the RNCSC created the Unclaimed Veteran Ceremony that would bestow  the honors these men and women deserved for the sacrifice they gave for their country.
The Unclaimed Veteran Ceremony is a thirty-minute ceremony conducted at the Riverside National Cemetery in Shelter G, near the Medal of Honor Memorial.  The Ceremony is held on the third Wednesday of every month at 9 A.M.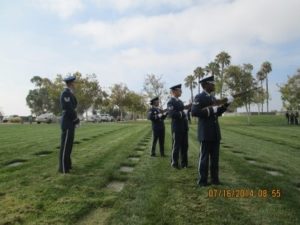 A representative of the RNCSC gathers a list of names of unclaimed veterans which is received from the offices of the Riverside National Cemetery in preparation of the ceremony.
At the ceremony, a bell is rung after each name is read in honor of their memory.    After the reading of the names, the Honor Guard announces the gun salute and taps are is played for the veterans who have passed.
The Marines then will unfold and refold the flag into Washington's Cap, then presented to the Air Force who will present it to a RNCSC member who stands as a representative for the veteran's memory or family members who are unable to claim and/or attend the ceremony.
The ceremony is concluded by a retired military chaplain who gives an invocation.
This Ceremony is also helpful for family members who were unable to attend the service of loved ones who had passed on without their knowledge. If the family member is present for the services of a veteran being honored, the flag will then be presented to them to take home.
Everyone is welcomed to attend the ceremony and there are no guidelines or restrictions to who may attend to give their honors to the unclaimed veterans.