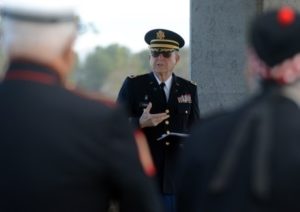 The third Wednesday of every month we gather quietly and respectfully at the far corner of the Riverside National Cemetery to bear witness to the service of Unclaimed Veterans. Semper Fi #1 Memorial Honor Detail marched into the shelter, a small group of older veterans, widows, and others were also there to pay their final respects.
The list of honorees is read and a traditional Navy bell is rung after each name is announced. The Air Force Honor Guard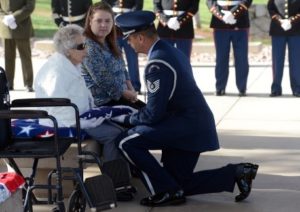 fires the traditional gun salute. A bugler fades in with taps as the veterans give a final salute, and the public stands with their hands over their hearts. Marine Semper Fi MHD Team One folds the flag and presents it to the March Air Reserve Base Honor Guard. The American flag is presented on behalf of a grateful nation to an audience member, often a widow of a veteran. Chaplain Col. Don Forden USA (Ret) gives his ever comforting thoughts and ends with the Benediction. The Unclaimed Veteran Memorial Services occur all year long honoring approximately 25 Veterans each month from WWII, Korea, Vietnam, Afghanistan, Iraq and Peace Time.
The program has b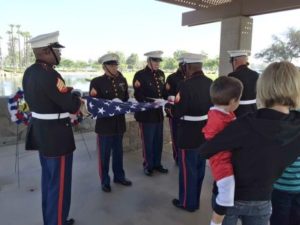 een ensuring veterans are given a military Honors since 1982. Patriots from the Riverside National Cemetery staff, the RNC Cemetery Support Committee, Veterans groups, and public have gathered to honor the "Indigent or Unclaimed" Veterans who are interred each month at Riverside National Cemetery. They are homeless, indigent or have just lost touch with family and friends. If you would like to pay respects to Unclaimed Veterans, the public is invited to attend the monthly service: On the 3rd Wednesday of each month at 9:00 a.m. Where: Shelter G, Riverside National Cemetery 22495 Van Buren Blvd. Riverside, California 92518.